10N - "N" Heavy Pattern
15 1/2" full length, 8 inch cut with Wiss Simplex Shear Bolt (allowing them to be taken apart for removing lint and dust). This appears to have been restored with new paint. It was sold on the UK eBay for $59, but shipping to the US would have doubled that.
---
27 - 7" Dressmakers Bent Trimmers
I bought this pair as these are a good example of the workmanship during the period 1963-1976 when these were made. The packaging is some sort of pegboard holder. The 12 lovely pictures were taken by the eBay seller.
---
5N Tailor Shears
I thought this seller did a nice job with the many pictures.
---
Embroidery Scissor
When this passed through eBay in May 2011, I did not have any old catalogs. I thought that this must have been Italian made, but not so labeled. In later years anything ornate was made over there. So I didn't bid. Now I find it in my 1912 catalog on page 34.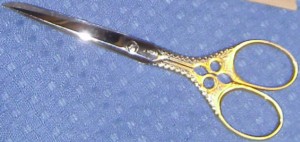 Embroidery
These were so lovely that I bought them. Later I found them on Page 34 of the 1912 catalog.
---
Leather Buttonhole Cutter
This buttonholder was patented by Bauer in 1872 under Patent 129,309. It appears in all catalogs up to the 1941 one. The identical shears also appears on eBay with a Heinisch label. Knowing the factory, I would assume that this was actually made by someone else.

On the 1941 catalog page, and earlier catalogs, it appears with the Wiss cloud logo. No shears with this logo have ever appeared on eBay. Apparently this was edited onto the catalog photo in about 1912 and used thereafter. In no catalog was this ever marketed as being for leather, but for leather is what they are used for these days.

These frequently appear on eBay. Not all are complete. The one pictured here is probably the nicest one I have seen pass through. It promptly sold for its $45 buy-it-now price.

One passed through with two brass cylinders. The cylinders are different lengths. Another had a double leaf spring. And one had a coil spring. These variants are included as the last pictures on this page.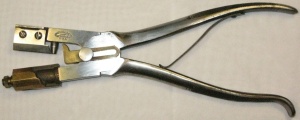 Model 729 9" Bent Trimmers for Heavy Fabrics
These were specially designed with extra sharp knife-edge blade to cut easily. Set-Easy pivot permits user to adjust shears to personal cutting preference. See October 1974 cut sheet.
---
Silver Plated Pinking Shears
I have no idea why such an item exists. Pairs passed through in January 2008 and December 2009.
---
Stork Embroidery Scissor
This was a popular style over the years. Based on the sleeve these were definitely made after 1943, and probably before 1948. This would appear to be old enough that it was made by J Wiss. In later years these were made in Italy.