J. Wiss & Sons Co. All Shears
---
---
---
---
---
---
patent.
---
---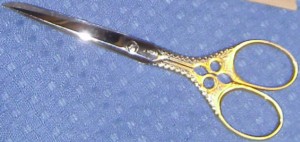 page 34.
---
Page 34 of the 1912 catalog.
---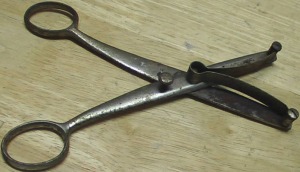 ---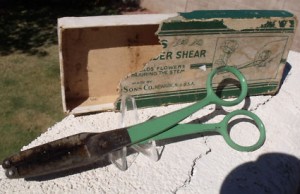 page 65 and in the 1937 catalog on page 44. No flower holding shears appears in the 1930 catalog.
---

instructions that were included with it. It had about a year overlap with the FH-4. It was gone by September 1954. It could only cut lightweight branches, and it could have been expensive to make.
---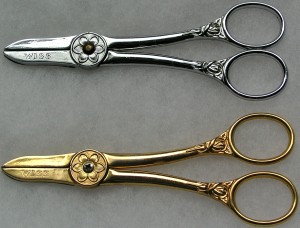 introductory flyer is dated September 1952. The first instructions sheet is dated August 1952. The style remained unchanged into 1978. In 1977 and 1978 they were sold by True Temper. They looked the same. In the 1950s they were shipped in a box with a folded insert. Later they were shipped in a blister pack. These two are in a family collection.
---
---
1957-1959. Ad copy: Lovely heart-shaped case adapted from a unique French design with two essentials of sewing—7" dressmakers' shears and 5" sewing-embroidery scissors. Colors: Nile Green, Caribbean Blue, Tapestry Red, Primrose Yellow, Sahara Tan, or Ivory. It retailed for $9.95 at the time. It remained in the catalog through to 1976. At the end colors were reduced to R-Holiday Red, P-Shocking Pink, B-Como Blue, Y-Tropic Yellow. And the suggested retail price was up to $23.95. Pictured here is Sahara Tan.
---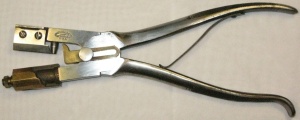 Patent 129,309. It appears in all catalogs up to the 1941 one. The identical shears also appears on eBay with a Heinisch label. Knowing the factory, I would assume that this was actually made by someone else.

On the 1941 catalog page, and earlier catalogs, it appears with the Wiss cloud logo. No shears with this logo have ever appeared on eBay. Apparently this was edited onto the catalog photo in about 1912 and used thereafter. In no catalog was this ever marketed as being for leather, but for leather is what they are used for these days.

These frequently appear on eBay. Not all are complete. The one pictured here is probably the nicest one I have seen pass through. It promptly sold for its $45 buy-it-now price.

One passed through with two brass cylinders. The cylinders are different lengths. Another had a double leaf spring. And one had a coil spring. These variants are included as the last pictures on this page.
---
---
cut sheet.
---
---
---