FH-1 Flower Holding Shears
The first of the flower holding shears. This pair is in my collection. It needs to be cleaned up and then photographed by me. The set screw is used to hold the shears in the closed position. This is the only FH-1 that I have seen pass through eBay. This is not in any catalog that I've seen.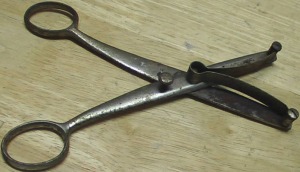 ---
FH-2 Flower Holding Shears
The second in the progression of flower holding shears. It also came nickel plated. It can be seen in the 1934 catalog on page 65 and in the 1937 catalog on page 44. No flower holding shears appears in the 1930 catalog.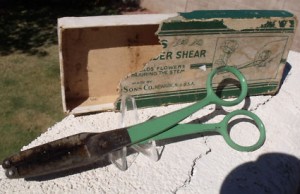 FH-3 Flower Holding Shears
Norman F Wiss Jr had this one copied from a design of Clauss Shears'. It was probably released in June 1948, based on the date on the instructions that were included with it. It had about a year overlap with the FH-4. It was gone by September 1954. It could only cut lightweight branches, and it could have been expensive to make.

FH-4 Flower Holding Shears
Both of these pairs are rare. The gold plated is one of two that Norman Wiss at the time had plated. Note the chrome one has a rivet. The rivet was only used for its first few months of manufacture. After that a Philips screw was used. The shear was designed by Norman F Wiss Jr and a product developer in Florham Park, NJ. The product's introductory flyer is dated September 1952. The first instructions sheet is dated August 1952. The style remained unchanged into 1978. In 1977 and 1978 they were sold by True Temper. They looked the same. In the 1950s they were shipped in a box with a folded insert. Later they were shipped in a blister pack. These two are in a family collection.